Description
Introduction Of Celery Washing Machine
The eddy current celery washing machine uses the mechanically generated air bubbles and eddy currents to clean the vegetables flexibly, and eddy current washing machine can also be cleaned without damaging the material. A celery washing machine commercial is suitable for cleaning a variety of fresh-cut vegetables, including lettuce, celery, ice vegetables, leeks, etc. It is essential equipment for salad processing plants.
Eddy Current Cleaning Machine Features
1.The interior of the celery washing machine cleaning cylinder is semi-circular, which can achieve the effect of cleaning vegetables without dead ends.
2.The interior of the celery washing machine benefits equipped with an impurity removal device, which makes it easier to use and clean up.
3.The spray device is added in the machine, and the secondary cleaning is cleaner.
4.Using a powerful air pump, the cleaning effect is better when cleaning.
5.The use of water circulation system can achieve the effect of energy saving and emission reduction.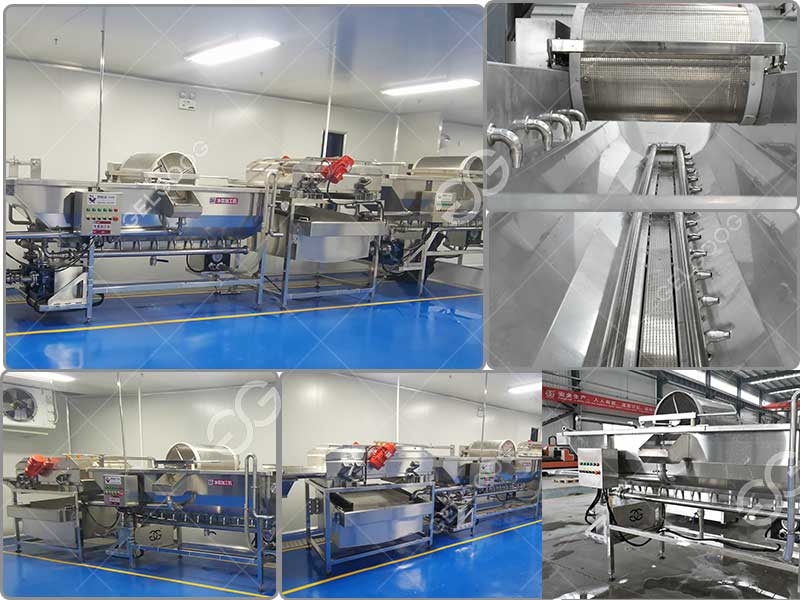 The Scope Of Use Of The Eddy Current Celery Washing Machine
The celery washing machine commercial is suitable for cleaning leafy vegetables, whole fruits and vegetables or fruits and vegetables that have been cut, shredded, sliced, and diced. Such as: cabbage, lettuce, spinach, pickled radish, kohlrabi, etc. The eddy current cleaning machine can be used in various processing such as central kitchen, prefabricated vegetable processing, canned fruit and vegetable processing, fruit and vegetable salad processing, etc.

Why Choose Our Celery Washing Machine?
The whole celery washing machine is made of food-grade 304 stainless steel. The welding part should be kept clean and tidy to ensure safety, and no corrugation is allowed. Resolutely avoid accidental injury to customers' employees. This is the basic requirement of our products, and also to customers. negative. We have clearly marked the parts and functions of the equipment. The operation instructions and precautions of the main parts are marked in the conspicuous positions of each part, so as to reduce unnecessary troubles and troubles for customers, and ensure the safe production of customers' employees. The pumps and motors used in the whole equipment All use imported or domestic first-line brands to ensure the quality of equipment operation.
Eddy Current Celery Washing Machine Parameters
Vegetable Eddy Current Washing Machine
Voltage
Air pump power
Drum power
Pump power
Vibration power
Dimensions
380V
1.5kw
0.37kw
2.2*2kw
0.16*6kw
5400*1410*1950MM
We are a manufacturer of celery washing machines. We can customize the eddy current washing machine you need. If you want to start a vegetable salad business, we can provide you with vegetable salad production solutions. Come and consult.