Description
Introduction Of Carrot Washing Machine
The carrot washing machine for fully automatic cleaning of radishes is called radish cleaning machine, also called: carrot brush cleaning machine, radish cleaning equipment, which uses radish brush cleaning machine, which is developed and produced on the basis of fruit and vegetable cleaning machine for cleaning radishes. Equipment. The carrot brush washing machine has the advantages of a good cleaning effect and no damage to radishes. In addition to washing radishes (white radishes, carrots, purple radishes), the carrot brush washing machine can also clean oval-shaped roots and vegetables such as potatoes and turmeric. It can be used alone or used in clean vegetable processing equipment or clean vegetable processing production lines.
Features Of Radish Carrot Washing Machine
1. Made of stainless steel, long service life, and strong corrosion resistance.
2. The running speed of the carrot washing machine price is adjustable, and the conveying speed can be set according to the production needs.
3. The high degree of automation, saving labor and improves production efficiency.
4. Clean, multi-directional, and multi-angle cleaning under the dual action of bubbles and spray.
5. Convenient water change, large drain valve, easy to discharge, clean, and maintain.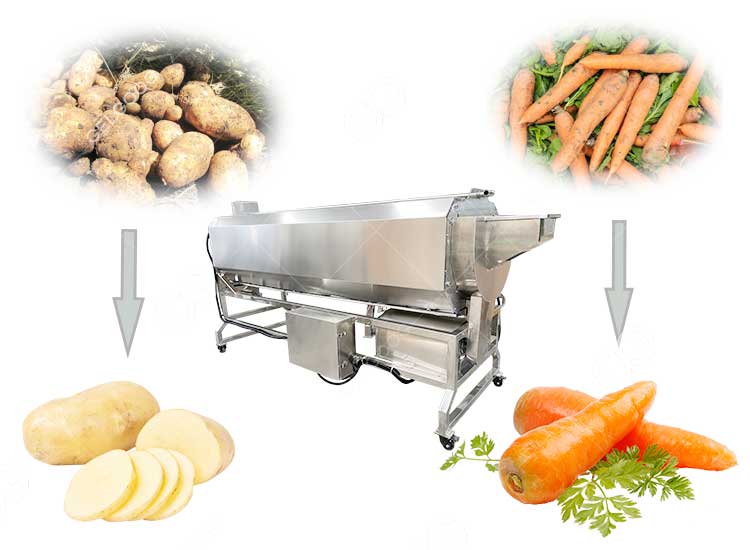 Advantages Of Carrot Washing Machine
1. The carrot washing machine price can clean a variety of root vegetables, spherical fruits, and oval fruits.
2. This machine adopts an imported nylon brush, which has a low damage rate and is relatively wear-resistant.
3. The parts and components of this carrot brush washing machine adopt branded devices, with a low failure rate and simple maintenance.
4. Easy to clean, easy to disassemble all parts, which is good for cleaning.
5. Support customization can provide output and specific needs, we can customize according to output, and can customize clean vegetable processing line equipment solutions.
The Function And Working Principle Of  Carrot Brush Washing Machine
The carrot  washing machine is also called the hairbrush cleaning machine. According to the characteristics of root vegetables, the material is added into the stainless steel tank, and then the motor drives the chain transmission, and the chain is transmitted to the hair roller so that the hair roller rotates at a high speed, and at the same time the hair roller is on The brush scrapes the material. Under the influence of speed, the upper spray device sprays the material under the action of the high-pressure water pump, so that the material is cleaned at the same time as it is peeled. The waste collection area under the machine has enough space for workers to remove waste, and the new filter screen can separate the waste residue and wastewater. The waste residue is easily scraped away above the filter screen, and the wastewater is automatically discharged under the filter screen.
Carrot Brush Washing Machine Parameters
Carrot Brush Washing Machine

model
Net length of wool roller
Length of hair roller
Diameter of hair roller
Motor Power
Spiral power
Dimensions(MM)
GG-SX800A
945
800
120
1.1
/
1500×850×900
GG-SX1000A
1145
1000
120
1.1
/
1700×850×900
GG-SX1200A
1345
1200
120
1.5
/
1900×850×900
GG-SX1500A
1645
1500
120
2.2
/
2200×850×900
GG-SX2000C
2145
2000
120
3
0.37
2700×850×1500
GG-SX2600C
2745
2600
120
4
0.37
3300×850×1500
We are a carrot washing machine manufacturers. If you want to start a carrot processing business, please contact us. We will provide you with plant design, solutions, and equipment. Welcome to consult.