Description
Introduction Of Green Leaves Cleaning Machine
We are a manufacturer of green leaves washing machine. The green leaves cleaning machine we make can replace the artificial removal of flying insects, dust, pesticides, and other impurities on the surface of the leaves. The cleaned green leaves can also be further processed for leaf powder or other processing. Compared with manual cleaning, the leaf cleaning machine has a better cleaning effect and has the effect of sterilization and disinfection. Faster cleaning rates increase productivity. Cleaning is more uniform and hygienic to achieve all-around cleaning. Wider range of applications, suitable for a variety of food processing, daily chemical, pharmaceutical, chemical, and other industries.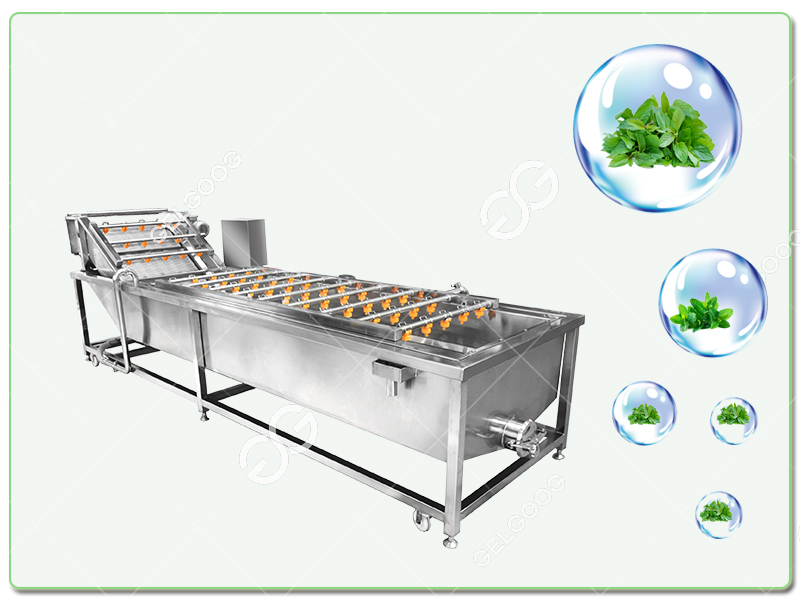 Application Of Green Leaves Cleaning Machine Cost
The leaf cleaning machine is suitable for cleaning a variety of leaves, including leafy vegetables, leafy flowers, leafy herbs, etc. Including Herb Leaf, Lemongrass, Parsley, Sage, Rosemary, Thyme, Mint Leaf, Rosemary, Moringa Leaf, Ficus Leaf, Betel Leaf, Lime Leaf, Big Green Leaf, Loquat Leaf, etc.
Structural Detail Of Green Leaves Washing Machine
1.The green leaves cleaning machine adopts intelligent control, programmable intelligent control panel, operation platform, simple and convenient, easy to learn and use.
2. Stainless steel mesh belt, the mesh belt is automatically lifted instead of manual labor, saving trouble and effort.
3. Comes with multiple spray nozzles, stainless steel tube design, fast cleaning, convenience and fast.
4. The leaves cleaning machine is equipped with a water circulation filtration system, which is filtered by a circulating water pump during use to save water.
5. Design the drain valve, the water is convenient to use and more convenient.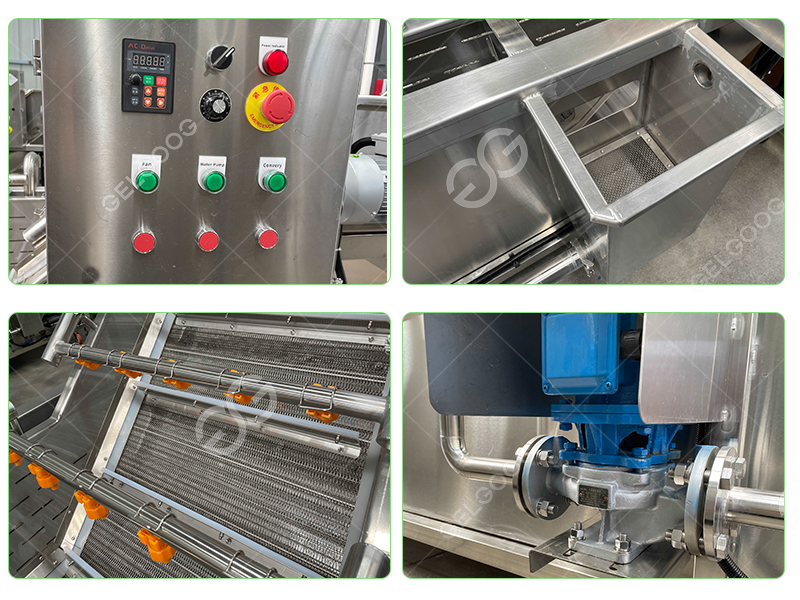 Advantages Of Green Leaves Washing Machine
1. Efficient removal of residues, combined with bubble cleaning and spray cleaning.
2. All-round cleaning, the mechanically generated air bubbles make the leaves tumble in the water to achieve comprehensive cleaning.
3. High-pressure spray can wash away the stains on the leaf surface.
4. Pure copper motor, the quality is guaranteed and the failure rate is low.
5.No damage to the pulp, soft bubbles, no irritation to the leaves
6. Free speed regulation, the conveyor belt can be adjusted.
Operation Steps Of Green Leaves Cleaning Machine
1. Clean the water tank and fill it up with water; pour clean water into the main tank until there is water overflow at the overflow port.
2. Start the conveyor mesh belt motor to make the mesh belt run normally, start the vortex pump in the correct direction, and inject air into the water in the water tank to make the water in the tank churn.
3. Open the valve of the spray pipe, so that the water is evenly sprayed on the mesh belt.
4. Check the operating parts and make sure that they can work after normal operation.
5. Depending on the cleaning degree of the material, the mesh belt of green leaves washing machine can be conveyed after being cleaned separately.
Parameters Of Green Leaves Cleaning Machine
| | | | | | |
| --- | --- | --- | --- | --- | --- |
| Model | Mesh belt width | Transmission power | Pump power | Air pump power | Dimensions(MM) |
| GG-XQ2500A | 800 | 0.75 | 0.75 | 2.2 | 2650*1550*1350 |
| GG-XQ3000A | 800 | 0.75 | 0.75 | 2.2 | 3150*1550*1350 |
| GG-XQ3500A | 800 | 0.75 | 0.75 | 2.2 | 3550*1550*1350 |
| GG-XQ4000A | 800 | 0.75 | 0.75 | 2.2 | 4150*1550*1350 |
| GG-XQ5000A | 800 | 1.5 | 1.5 | 4 | 5150*1550*1350 |
| GG-XQ6000A | 800 | 1.5 | 1.5 | 4 | 6150*1550*1350 |