Chili is an important ingredient in our daily diet, with a wide variety of varieties, such as: green peppers, colored peppers, red peppers, bell peppers, vegetable peppers and so on. The newly picked peppers are generally not relatively clean, and there will be a little soil. Generally, simple processing is required. The specific equipment required for the pepper vegetable cleaning equipment is as follows:
Pepper cleaning equipment: Pepper cleaning equipment is commonly used in pepper vegetable cleaning equipment, and it is also one of the commonly used equipment in other vegetable cleaning processing. The pepper cleaning can use the bubble cleaning machine, the bubble cleaning plus the upper secondary spray, multiple cleaning, the pepper cleaning is more clean, Jerguge can customize the size and specification of the bubble cleaning machine according to the pepper processing output.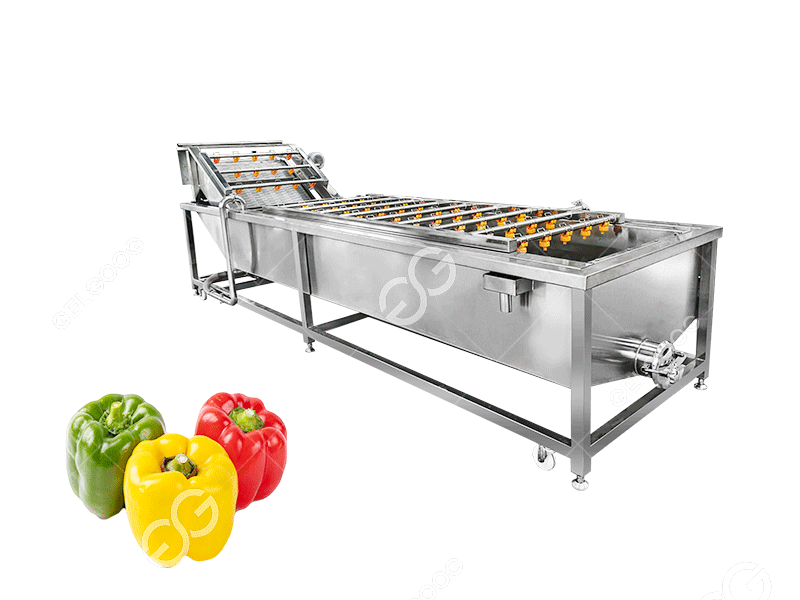 Chili air-drying equipment: After the chili is cleaned, it is quickly dried by an air dryer, and the next process can be carried out. The air dryer includes a lower conveyor belt, which makes the peppers automatically transport forward, plus the upper wind force to quickly dry the excess water on the surface of the peppers. As a pre-processing equipment for cleaning vegetables, the pepper vegetable cleaning equipment is commonly used for cleaning and air-drying. The vegetable cutting machine can also be used in other vegetable cleaning processing.
Chili cutting equipment: The chili cutting equipment can use a multi-function vegetable cutting machine, which can cut circles, cut into sections, and chop, and can perform subsequent processing according to needs, such as making chili sauce, chili powder, chili wedges, etc.
The chili vegetable cleaning equipment mainly includes the above three types: chili cleaning equipment, chili air drying equipment, and chili cutting equipment. In addition to providing chili vegetable cleaning equipment, Jerguge can also provide chili deep processing solutions, such as: chili sauce production line, chili pepper Powder production line, etc.