Description
Chili Washing Machine Introduction
chili cleaning machine is a practical, convenient and efficient cleaning and processing equipment for fruits and vegetables. Whether it's making chili sauce or chili powder, the necessary steps to clean chili. If labor is used, it will not only waste time and cost but also may not be cleaned. This pepper cleaning machine avoids these problems. red chili cleaning machine not only has a high cleaning rate but also uses bubble tumbling for cleaning, making the cleaning more comprehensive and the cleaning effect better. chili cleaning machine can achieve multiple functions in one machine, not only cleaning peppers, tomatoes, greens, and other vegetables but also fruits, seafood, and Chinese herbal medicines.
Features Of Pepper Cleaning Machine
1. Adopting three combined cleaning methods of collecting bubbles, blasting, and spraying, so that the cleaning efficiency is high, and the surface of the material will not be damaged.
2. The chili cleaning machine adopts stainless steel device, which has a long service life and is easy to clean.
3. The chili pepper washing machine has a compact structure and will not produce noise pollution when working.
4. This chili cleaning machine price has a wide range of applications, not only for cleaning vegetables but also for fruits, Chinese herbal medicines, and aquatic products.
5. This chili cleaning machine can be used as a stand-alone machine, or it can be used as a production line.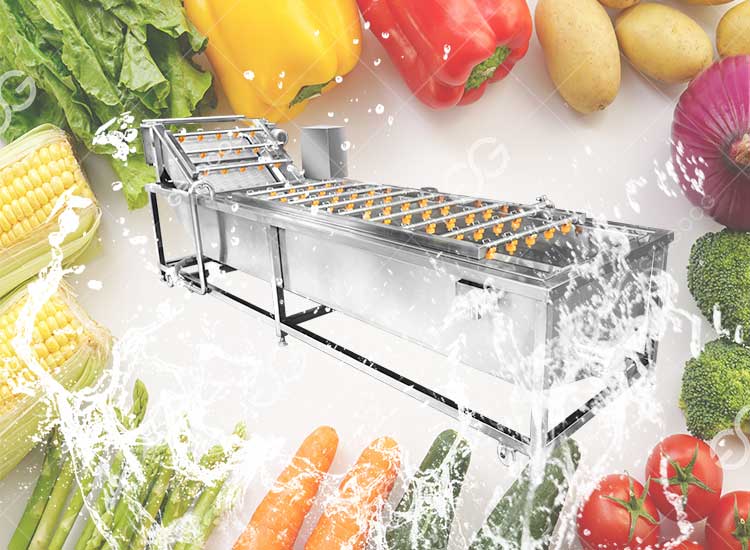 Advantages Of Pepper Cleaning Machine
1. The parts of this chili cleaning machine are manufactured by well-known brands, with a low failure rate and easy maintenance.
2. This red chili cleaning machine can customize the production output according to the user's output demand.
3. The chili cleaning machine has a high degree of automation, and only one person can complete the operation, which saves time and effort.
4. The chili pepper washing machine can automatically water and discharge, and the transmission time can be adjusted according to the processing technology.
5. This machine is set up with a water cycle as a whole, which can reduce the waste of water resources.
6. This chili pepper washing machine can provide installation and technical guidance, with excellent pre-sales and after-sales service.
The Working Principle Of The Pepper Cleaning Machine
The red chili cleaning machine is equipped with a bubble generating device, which makes the pepper roll, removes the pesticide residue on the surface of the pepper, and achieves the purpose of cleaning. The whole process of the pepper cleaning machine is mesh belt conveying, which can well cope with the cleaning and propulsion of sinking and floating materials. The high-power vortex air pump is uniformly distributed at the bottom of the trough through the air pipe. There is a spray pipe on the top of the sink, and the air bubbles at the bottom work together to make the material churn in the water efficiently, and the cleaning effect is excellent. The feed inlet is equipped with a forward wave to effectively push the pepper forward and prevent the accumulation of feed.
Red Chili Cleaning Machine Parameters
Red Chili Cleaning Machine
Model
Mesh belt width
Transmission power
Pump power
Air pump power
Dimensions(MM)
GG-XQ2500A
800
0.75
0.75
2.2
2725×1504×1329
GG-XQ3000A
800
0.75
0.75
2.2
3225×1504×1329
GG-XQ3500A
800
0.75
0.75
2.2
3725×1504×1329
GG-XQ4000A
800
0.75
0.75
2.2
4225×1504×1329
GG-XQ5000A
800
1.5
1.5
4
5225×1504×1329
GG-XQ6000A
800
1.5
1.5
4
6225×1504×1329
If you want to know the chili cleaning machine price and more information, please contact us, we will provide you with solutions and equipment for pepper processing.