Description
Introduction Of Durian Washing Machine
Durian cleaning machine durian sterilizing machine is made of high-quality stainless steel, which meets hygienic standards, and is suitable for clean vegetable processing plants, large food distribution centers, and food processing enterprises. This durian cleaning machine has a large cleaning ability, good cleaning effect, and does not damage the fruits and vegetables being washed. Durian processing machine is suitable for the cleaning of leafy vegetables and Chinese herbal medicines. Durian washing machine is the best cleaning machine for vegetables, especially leafy vegetables, fruits, mushrooms, aquatic products, and Chinese herbal medicines.
Features Of Durian Cleaning Machine
1. This durian cleaning machine uses high-pressure gas to produce bubbling and double-layer cleaning by spraying water at the lifting part, which can make the cleaning effect better.
2. This durian washing machine can effectively separate the silt, impurities, insects, hair, weeds, and other sundries that adhere to the vegetables, and they can be intercepted by the lifting filter. During the cleaning process, the spray and high-pressure nozzles provide a continuous water supply, and the water supply can be adjusted, which is convenient for customers to adjust flexibly according to the amount of vegetable processing and the degree of cleanliness.
3. This durian cleaning machine is suitable for cleaning a variety of materials, such as vegetables, fruits, aquatic products and other granular, leaf, and root products.
4. This durian sterilizing machine can be equipped with an ozone generating device, which can sterilize and disinfect materials without changing the original color of the materials.
5. The conveying part of this durian processing machine adopts a SUS304 stainless steel mesh belt, which has the characteristics of stable operation and long service life, which meets the requirements of food hygiene.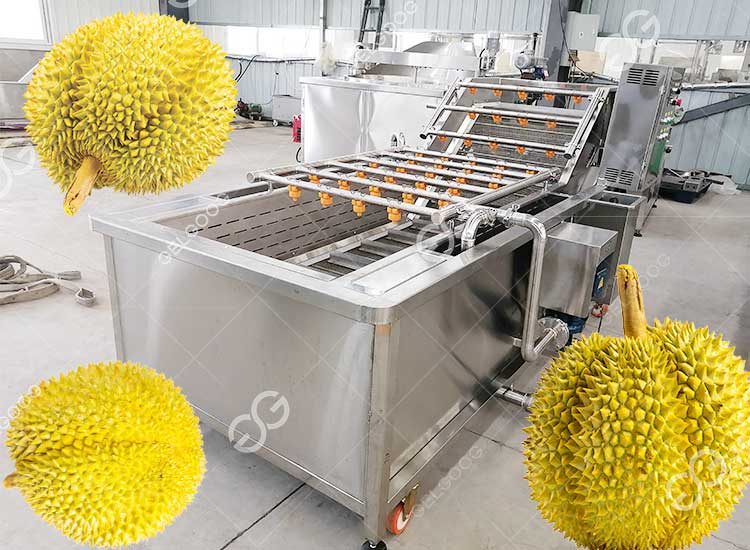 Advantages Of Durian Washing Machine
1. The durian cleaning machine can realize the integrated cleaning and disinfection, which can greatly save labor time and cost, and reduce the process used in processing.
2. Thedurian processing machine is simple to operate, convenient to maintain has a low mechanical failure rate, and adjustable operating speed.
3. Thisdurian washing mechanical conveyor belt drive reducer adopts an adjustable speed structure, and the user can adjust the transmission speed according to different materials to make the material secondary spray cleaning and water filtration more thoroughly to improve the utilization rate of the equipment.
4. This durian processing machine adopts a water circulation system, which can reduce the waste of water resources and make full use of water resources.
5. The parts of this durian cleaning machine are all well-known brands, which can be customized according to the output requirements of customers.
6. When the durian washing machine encounters problems before and after the operation, you can contact us. Our customers provide high-quality pre-sales and after-sales services.
Durian Washing Machine Parameters
Durian Cleaning Machine

Model
Mesh belt width
Transmission power
Pump power
Air pump power
Dimensions(MM)
GG-XQ2500A
800
0.75
0.75
2.2
2725×1504×1329
GG-XQ3000A
800
0.75
0.75
2.2
3225×1504×1329
GG-XQ3500A
800
0.75
0.75
2.2
3725×1504×1329
GG-XQ4000A
800
0.75
0.75
2.2
4225×1504×1329
GG-XQ5000A
800
1.5
1.5
4
5225×1504×1329
GG-XQ6000A
800
1.5
1.5
4
6225×1504×1329
We are a manufacturer and supplier of durian processing machinery. In addition to fruit and vegetable washing machines, we also have cutting machines, grading machines, waxing machines, blanching machines, packaging machines, frying machines, quick-freezing machines, and so on. If necessary, please contact us, we will provide you with more information and quotation.