Description
Introduction Of Chinese Herbal Medicine Washing Machine
Chinese herb washing machine adopts bubble cleaning machine. In addition to cleaning Chinese herbal medicines, it can also be used to clean other vegetables, fruits, aquatic products, such as shrimp, fish, mango, apple, tomato, cucumber, green vegetables, etc. It is also suitable for growing in soil. Fresh fruits and vegetables, multi-angle and multi-washing, high washing degree, can maintain the original color and make the food fresh as before.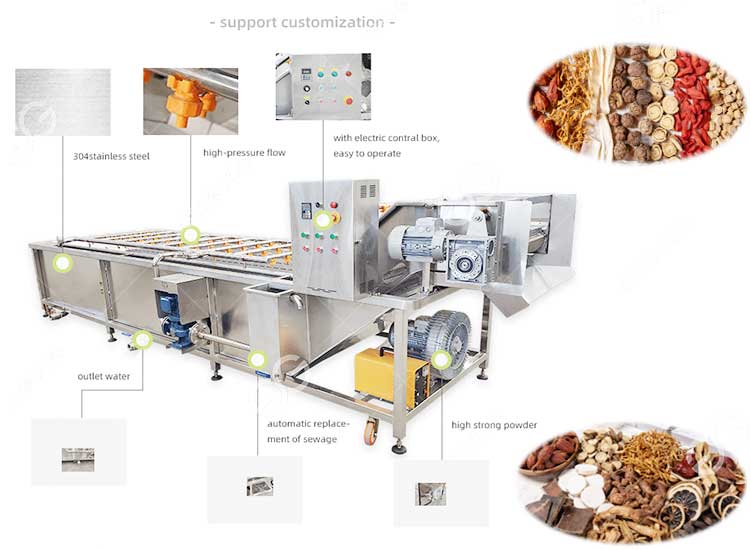 Features Of Chinese Herb Medicine Washing Machine
1. It can be customized according to the different processing characteristics of users.
2. The cleaning operation speed can be adjusted freely, and the user can set it according to different cleaning processes.
3. The herb cleaning machine has a compact structure and a high degree of automation, which is suitable for enterprises of various processing scales.
4. This herb washing machine can be used as a stand-alone machine, or it can work with a production line.
5. This herb medicine washing machine has low energy consumption, high production efficiency, and a good cleaning effect.
Advantages Of herb Washing Machine
1. The herb washing machine is easy to maintain, easy to install, and labor-saving.
2. This herb medicine washing machine adopts food grade 304 stainless steel material, which has long service life and strong corrosion resistance.
3. This herb cleaning machine is designed with a combination of water spray and bubble cleaning, which can make the cleaning cleaner.
4. This machine has a wide range of applications, can be used for a variety of materials, and can clean fruits, vegetables, and aquatic products.
5. We can provide technical support and operation guidance.
The Working Principle Of The Chinese Herbal Medicine Washing Machine
When the Chinese herbal cleaning machine is working, due to the existence of the air bubble generator, air bubbles are generated in the pool and the pool is rolled to achieve the purpose of fully cleaning the Chinese herbal medicine. The upper end of the equipment is equipped with a high-pressure spray, the product rolls in the pool, and then is impacted by high-pressure water, the impurities float on the surface, overflow through the overflow, and the fine sand is filtered through the water cycle and settled in the impurity tank. The material is violently tumbling and agitated in the water. After the cleaning water is filtered, it is back washed by the pressure nozzle of the circulating flushing pump. The direction of the nozzle can be adjusted. Scraper hoist, the speed of the hoist is adjustable.
Chinese Herbal Medicine Cleaning Machine Parameters
Fruit Mango And Apple Washing Machine

Model
Mesh belt width
Transmission power
Pump power
Air pump power
Dimensions(MM)
GG-XQ2500A
800
0.75
0.75
2.2
2725×1504×1329
GG-XQ3000A
800
0.75
0.75
2.2
3225×1504×1329
GG-XQ3500A
800
0.75
0.75
2.2
3725×1504×1329
GG-XQ4000A
800
0.75
0.75
2.2
4225×1504×1329
GG-XQ5000A
800
1.5
1.5
4
5225×1504×1329
GG-XQ6000A
800
1.5
1.5
4
6225×1504×1329
We are a manufacturer and supplier of Chinese herb medicine washing machines, which can be customized according to the output. If you want to know more, please contact us.