The industrial use potato washer is a simple and convenient brush cleaning machine that does not damage the surface of potatoes. Mechanical brushes are divided into two types: soft bristles and hard bristles, which can be changed according to processing needs. If the potatoes only need to be cleaned, a cleaning machine with a soft brush can be used to remove the sludge on the surface of the potatoes. If the potatoes need to be peeled during the cleaning process, choose a stiff brush that will not cause excessive damage to the potatoes. So, what is a potato washer for industrial use? The following article is about the introduction of potato washing machine.
How A Potato Washer Works
The working principle of potato washer machine Potatoes are rotated by the brush of the potato cleaning and peeling machine, and the surface of the potato is rubbed with the brush, so as to achieve the effect of cleaning, peeling and polishing potatoes. Thick and fine potato peeling and washing machine adopts centrifugal rotation, touch sassafras peeling technology
The Working Video Of The Potato Washing Machine Is As Follows
Structural Characteristics Of Potato Washer
The brush of the potato washer is made of nylon filament, which is made of fine craftsmanship, which is wear-resistant and does not fall off the hair, which can make the material cleaner and more shiny.
The whole machine is made of high-quality 304 stainless steel, which is sturdy and durable. Roller four-point support, easy to move
Double row industrial chain drive, wear resistance, greater bearing capacity, safe and reliable.
Integrated geared motor, lower noise and longer life.
The butter pipe supplies oil, and it is more convenient to add butter to the bearing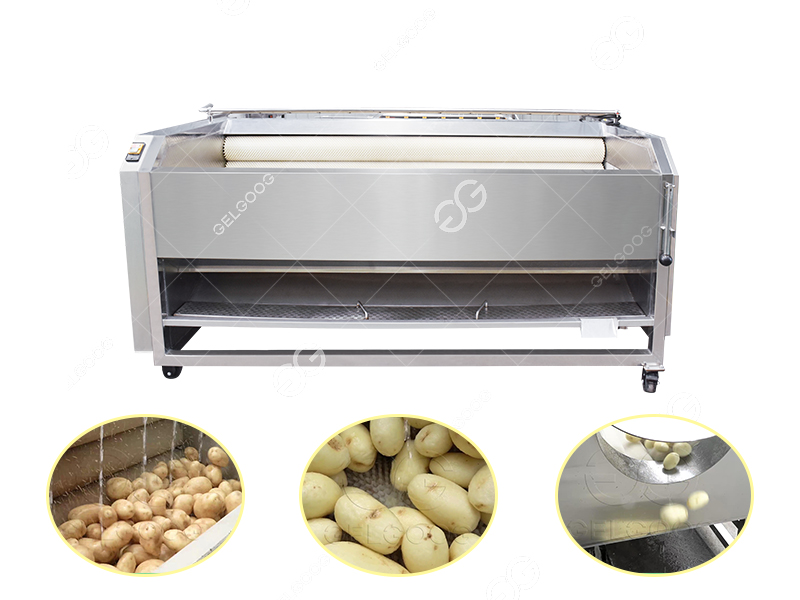 Specific Specifications Of Potato Washing Machine
Capacity: 200-2000 kg per hour, can be customized according to specific needs.
Voltage: Voltage: 380/220v
Power: 1.1kw~4kw
Brush length: 800-2600mm
Advantages Of Potato Washer
Can be customized according to the output
Wide range of applications, suitable for cleaning radish, taro, cassava, sweet potato and other root vegetables.
It is a necessary machine in the production line of potato chips and fries.
It is easy to disassemble and maintain.
Do you know anything about the potato washer in the above article? If you are interested in potato washing machine, please leave a message. We are potato washing machine manufacturer, we will give you free quotation and best service.