Description
Introduction Of Beet Cleaning Machine
The beet washing machine adopts a brush-type cleaning machine, and the brush is made of nylon material, which is durable and wear-resistant. If you want to peel the beets, you can replace the brush with emery, which can quickly peel the beets. This beet washer machine reduces labor time cost, and has good peeling effect, which can reduce the waste of raw materials. This machine has a wide range of applications, suitable for the use of a variety of root vegetables: suitable for peeling and cleaning carrots, potatoes, potatoes, sweet potatoes, ginger, fish scales, etc.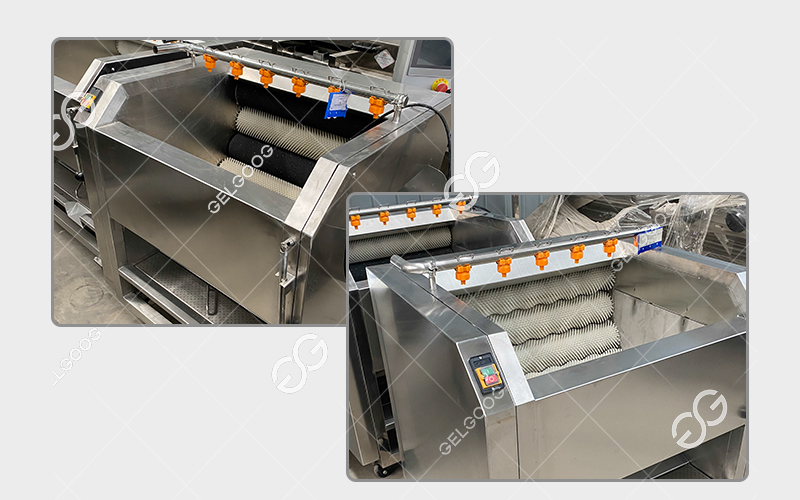 Advantages Of Beet Cleaning Machine
1.Made of high-quality 304 stainless steel, beets washing machine for sale has a long service life.
2.The peeling effect is good, which can reduce the waste of materials.
3.It can clean a variety of rhizome materials.
4.The output ranges from 200-3000 kg per hour, which can be customized according to processing needs.
5.There is only spray on the top of the machine so that the cleaning effect is the best.
6.The operation is relatively simple, only one person can complete the operation, saving labor waste.
7.The beet washing machine occupies a small area, can be moved anywhere, and can be used indoors or outdoors.
8.It can be matched with the production line to achieve continuous work and improve production efficiency.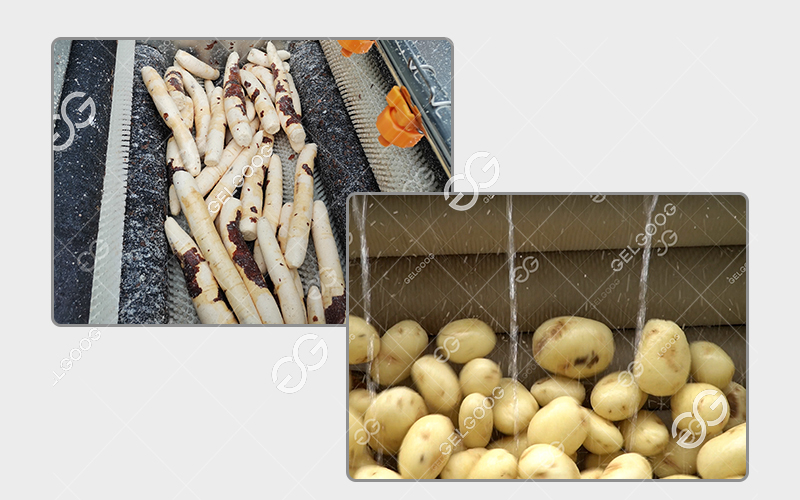 Beet Cleaning Machine Working Parameters
| | | | | | |
| --- | --- | --- | --- | --- | --- |
| Model | Power | Dimension | Weight | Capacity | Roller length |
| GG-SX800 | 1.1kw/380v | 1600*850*800mm | 220kg | 400kg/h | 800 mm |
| GG-SX1000 | 1.5kw/380v | 1800*850*800mm | 260kg | 600kg/h | 1000 mm |
| GG-SX1200 | 1.5kw/380v | 2000*850*800mm | 280kg | 800kg/h | 1200 mm |
| GG-SX1500 | 2.2kw/380v | 2300*850*800mm | 320kg | 1000kg/h | 1500 mm |
| GG-SX2000 | 3kw/380v | 2800*850*800mm | 420kg | 1500kg/h | 2000 mm |
| GG-SX2600 | 4.75kw/380v | 3300*850*1450mm | 600kg | 2000kg/h | 2600 mm |
Beet Washing Machine Working Principle
The beet cleaning machine is mainly composed of a motor, a transmission, a hair roller group and a spiral blade. The material is pushed forward by the spiral blade in the cleaning tank, rubs against the brush, and is sprayed by the high-pressure nozzle on the upper part of the machine, so as to achieve the effect of continuous cleaning.
Washed beetroot can be processed into salads, industrial extractions and culinary dishes. Therefore, sugar beet has a lot of application value, and also has a wider processing prospect. Then beet cleaning is essential, if you want to know the price of this machine, please leave a message to get a free quotation.