Description
Salad Washing Machine Description
The salad washing machine is a flexible cleaning machine designed for vegetables that are easily damaged. It does not harm vegetables. It has high cleanliness and is suitable for all kinds of chopped salad vegetables. The salad vegetable washing machinecan remove impurities such as flying insects, pesticides, and sediment in hidden vegetables. It is an ideal equipment for salad processing plants, central kitchens and other occasions.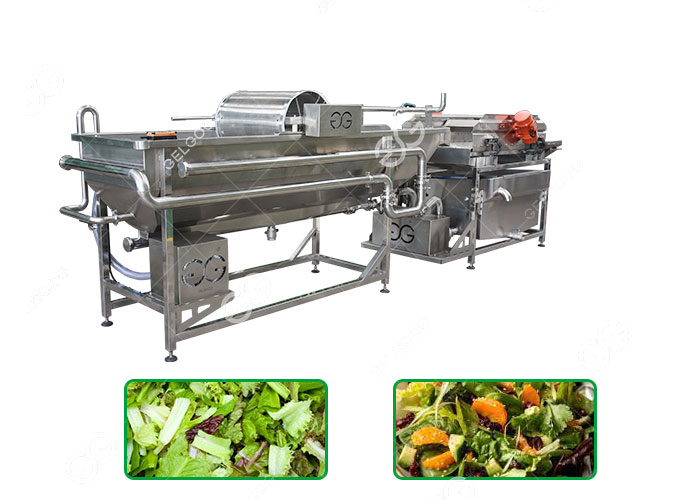 Features Of Salad Vegetable Washing Machine
Employing both bubble and eddy current cleaning, the salad washing machine's cleaning technique involves rubbing the vegetables to eliminate flying insects and sediment on their surfaces.
As the salad vegetables are discharged, the water flow speeds up to expel them. Conducting a second rinse with tap water enhances the cleaning effectiveness.
The water discharged from the machine is recycled back to the filter tank.
The sieve plate, which can be easily removed, facilitates quick removal of impurities attached to the machine.
The salad washing machine comes equipped with universal wheels at its base, making it effortless to maneuver and operate.
Advantages Of Salad Washing Machine For Sale
1.The valve's large diameter allows for quick discharge of stolen goods and leftover products using water, making mechanical disassembly convenient.
2.The use of an open junction ensures hygienic and safe cleaning, as it allows for full access to the cleaning tank's interior.
3.Vegetable material is washed with a spiral mixed water flow, which extends the cleaning path, reduces mechanical damage to salad vegetables, and saves water resources.
4.The salad washing machine, when used in conjunction with the salad production line, enables the mass production of salad vegetables.
5.With advanced welding technology and high-precision machining of its parts, the salad washing machine is crafted with fine workmanship, ensuring safety and reliability.
Salad Washing Machine Parameters
| | | | | | |
| --- | --- | --- | --- | --- | --- |
| Voltage | Air pump power | Drum power | Pump power | Vibration power | Dimensions |
| 380V | 1.5kw | 0.37kw | 2.2*2kw | 0.16*6kw | 5400*1410*1950MM |
Scope of application: all kinds of cut root fruits and vegetables such as: cucumber slices, lettuce sticks, carrots, etc. Cut leafy vegetables such as cabbage chunks, spinach segments, etc. Cut fruits and vegetables such as green and red pepper strips, etc.
We are a salad washing machine manufacturer. If you want to know the price of vegetable salad, you can leave a message to get a free quotation. We also have a salad production line. If you are interested, please contact us.
---
Leave A Message For A Quote