Description
Description Of Long Banana Chip Slicer
The long banana chip slicer is characterized by centrifugal slicing, which can cut bananas into long-shaped banana chips. The machine can slice and shred at the same time, and the slice is smooth and flat. The spacing of the machine can be adjusted, and banana slices of different thicknesses can be cut out. It is the necessary equipment for processing long banana slices.
The Characteristics Of Long Banana Slicer Machine
1. The whole machine is made of 304 stainless steel, strong and durable, not easy to rust, and meets food hygiene standards.
2. The banana chip slicer has powerful functions, the spacing can be adjusted, and it can be shredded and sliced.
3. The slicing is smooth, and there will be no jamming phenomenon.
4. Powerful, safe and stable, waterproof and leakage-proof.
5. The blade can be disassembled and replaced at will.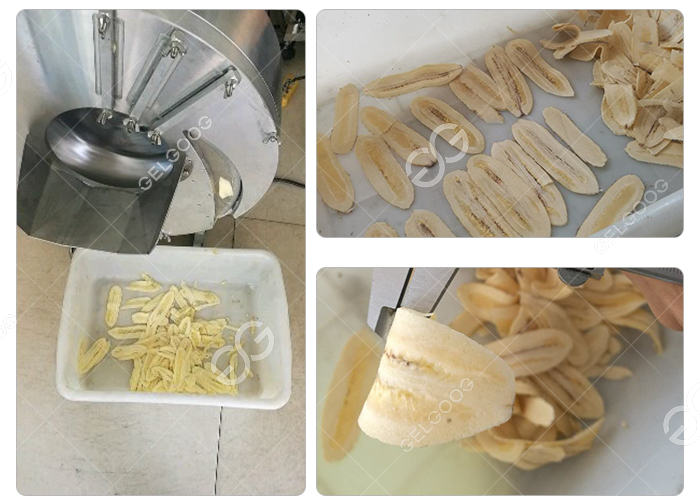 Advantages Of Long Banana Chips Cutting Machine
1. It has the advantages of one machine with multiple functions, suitable for slicing and stripping various fruits and vegetables.
2. The sliced and shredded plane is smooth, not rough.
3. The height of the equipment can be adjusted according to the demand.
4. One-button start, saving time and effort.
5. Small size, small footprint, easy to move and use, suitable for a variety of food processing factories, hotels, canteens and so on.
The Principle Of Long Banana Chip Slicer
The banana chip machine works by using the centrifugal principle for cutting and processing. The material rotates on the turntable, and the cut banana chips are thrown out along the window under the centrifugal force of the machine, and can be sliced and shredded at the same time. The machine can prevent cutting debris from accumulating by adjusting the outer cover up and down.
Parameters Of Banana Chip Cutting Machine
| | | | | | | |
| --- | --- | --- | --- | --- | --- | --- |
| Model | Thickness of strip | Length of strip | Specification of slice | Capacity | Power | Dimension |
| GG-503 | 1.5mm /2mm | longest of 20cm | 1-8mm | 150-250kg/h | 220V, 1HP | 540*400*560mm |
| GG-501 | 1.5-5mm adjustable | | 1-8mm | 500-800kg/h | 220V, 1HP | 650*550*880mm |
Long banana chips are a very popular snack and hold great promise for processing. Starting a banana chip processing business is easy, all you need is this machinery and a fryer. We can provide processing solutions for the entire banana chips production line, if you need to leave a message to get the price.
---
—Leave A Message For A Quote—