Description
Water Spinach Washing Cleaning Machine Commercial Introduction
The water spinach washing cleaning machine commercial adopts a bubble-type spinach washing machine, which can remove the stains, bacteria, flying insects and other substances on the surface of the spinach, and protect the surface of the leaves from damage and the color does not change. The washed spinach can be packaged and sold directly or cut and packaged for sale. Through this processing, the sales value of spinach can be increased and more economic benefits can be brought. This spinach washing machine is suitable for washing various leafy vegetables, including celery, cabbage, coriander, lettuce and more.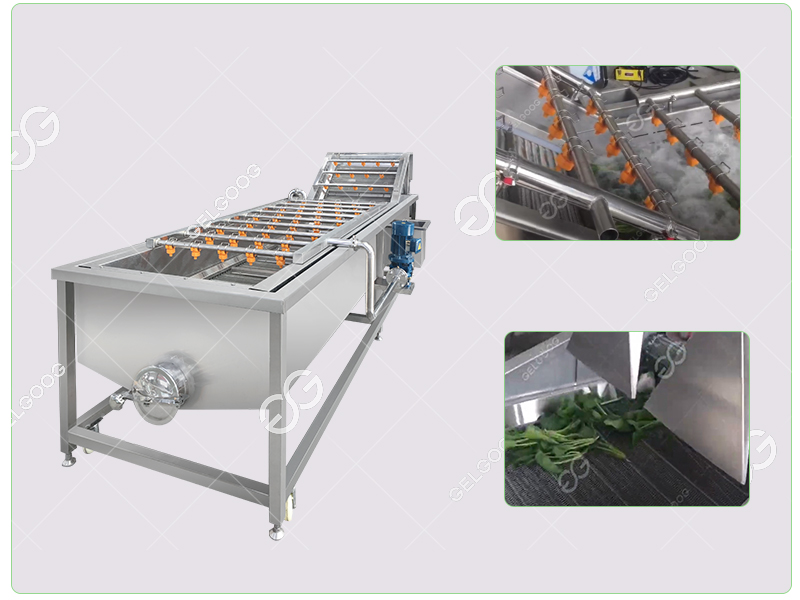 Advantages Of Spinach Washing Machine
1.The whole spinach cleaning machine is made of SU5304 stainless steel, which meets the certification requirements of GMP. Easy to use and easier to clean.
2.Energy saving, the circulating water can be recycled after being filtered.
3.Spinach can be cleaned, desalted, and pesticide residues removed during the cleaning process to ensure that it is clean.
4.The high-pressure spray design can effectively remove impurities mixed in the product and avoid the unclean cleaning caused by the floating of rabbit spinach.
5.The spinach cleaning machine commercial can be matched with a vibrating drainer, an overturned air dryer, a dryer, etc. to form an assembly line to realize automatic food processing.
6.The multifunctional bubble water spinach washing machine is suitable for all kinds of fruits and vegetables (fresh vegetables, pickled vegetables, mushroom vegetables, aquatic products, medicinal materials, etc. The equipment is all made of stainless steel, and it is special equipment for cleaning food.
Detail Of Water Spinach Cleaning Machine
1.The mesh belt is automatically lifted to replace manual labor and improve work efficiency. During the cleaning process, the conveyor belt automatically lifts the material, which is convenient and fast.
2.Simple operating system, one-key operation, quick cleaning, no harm to fruits and vegetables, convenient and quick.
3.Spray cleaning, using a 360° rotating nozzle is easy to clean and has no dead ends.
4.Bubble surfing and washing, using the tossing of water in the tank to agitate and clean the material, the dirt such as sediment is detached and falls into the mesh belt, the sediment below is removed, and most of the impurities are removed.
5.The whole water spinach cleaning machine is made of stainless steel, beautiful and easy to clean, reliable quality and easy to operate.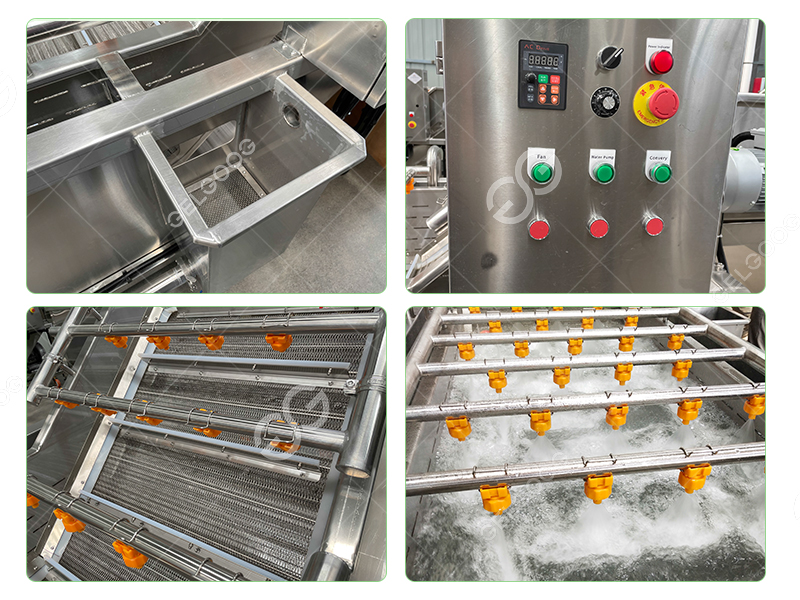 Spinach Washing Machine Parameters
| | | | | | |
| --- | --- | --- | --- | --- | --- |
| Model | Mesh belt width | Transmission power | Pump power | Air pump power | Dimensions(MM) |
| GG-XQ2500A | 800 | 0.75 | 0.75 | 2.2 | 2650*1550*1350 |
| GG-XQ3000A | 800 | 0.75 | 0.75 | 2.2 | 3150*1550*1350 |
| GG-XQ3500A | 800 | 0.75 | 0.75 | 2.2 | 3550*1550*1350 |
| GG-XQ4000A | 800 | 0.75 | 0.75 | 2.2 | 4150*1550*1350 |
| GG-XQ5000A | 800 | 1.5 | 1.5 | 4 | 5150*1550*1350 |
| GG-XQ6000A | 800 | 1.5 | 1.5 | 4 | 6150*1550*1350 |
We are a spinach washing machine manufacturer, we have exported this machine to many customers in many countries, and the customer feedback is very good. If you want to start a spinach processing business, please do not hesitate, please leave a message to contact us to get a free quotation and solutions.