Description
Description Of Plantain Chips Cutting Machine
The plantain chip slicer machine is a multi-functional push-down slicing machine with multiple feeding ports of different sizes and shapes, which can be used to cut plantains diagonally or cross-cut. The output of this plantain slicer machine is 300 to 500 kilograms per hour, which can be customized according to your own processing needs. It is fully in line with the machinery needed for the business of plantain chips, and can slice all kinds of fruits and vegetables, and the thickness of the slices can also be adjusted.
Advantages Of Plantain Slicer Machine Price
1. Uniform cutting: the thickness of the slices can be uniform and uniform.
2. Easy to clean: Made of stainless steel, easy to clean and use.
3. Support customization: the output is 300-500 kg per hour, which can be customized according to processing needs.
4. Low-noise operation: the mechanical work is stable and will not produce too much noise pollution.
5. Wide range of applications: it can slice a variety of fruits and vegetables, suitable for a variety of food processing factories, fruit and vegetable processing factories, sellers, etc.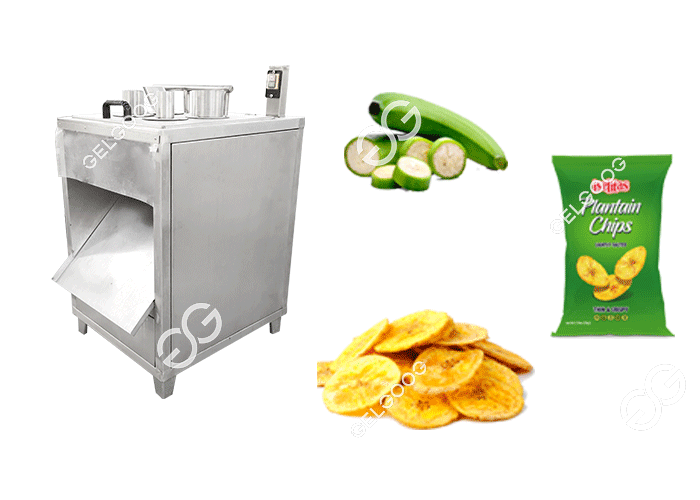 Features Of Plantain Chips Cutting Machine In Nigeria
1. Multiple feeding ports: Multiple feeding ports can be used to allow multiple people to work at the same time.
2. Low loss: save energy waste.
3. Corrosion resistance: The plantain slicer machine is made of stainless steel, which has strong corrosion resistance, so there is no need to worry about troublesome use and cleaning.
4. High efficiency: It can be produced automatically, just put the plantain into the material port, and the work can be completed.
5. Non-stick blade: The machine runs fast, and the plantain will not stick to the blade.
How to cut plantain chips? Watch the video.
Parameters Of Plantain Slicer Machine
| | |
| --- | --- |
| Model | GG-CP1 |
| Dimension | 800*600*1000mm |
| Power | 0.75kw |
| Capacity | 300-500kg/h |
| Cutting size | 0-5mm adjustable |
| weight | 80kg |
As a snack, plantain chips are crispy and delicious, suitable for all ages. Starting a plantain chips business is very simple, you just need to tell us your needs and we can provide you with solutions. If you want to know the price, you can leave a message at any time to get a quotation.
---
Leave A Message For A Quote