Description
Description Of Tomato Dicer Machine
Manufactured from stainless steel, the tomato cutting machine is a multifunctional piece of equipment that can be adjusted to cut fruits and vegetables in varying sizes between 3-20mm, meeting different processing requirements. Capable of working both as a standalone machine or within a tomato canning processing line, the tomato dicing machine works effectively with a range of other fruits and vegetables, including onions, mushrooms, potatoes, carrots, peaches, apples, mangoes, and more. It is adaptable for use in diverse food processing factories, canning factories, schools, restaurants, and similar settings.
How to dice a tomato? Please watch the video.
Features Of Tomato Dicing Machine
1. Made of stainless steel, durable, anti-corrosion, safe to use and easy to maintain.
2. There is an induction device at the material inlet, which has the function of opening the cover and stopping the machine.
3. Switch button, one-button operation, emergency stop button, safe and convenient operation.
4. There is a silent universal wheel design at the bottom, which is easy to move and use.
5. It can be used with other machinery in the tomato canning production line.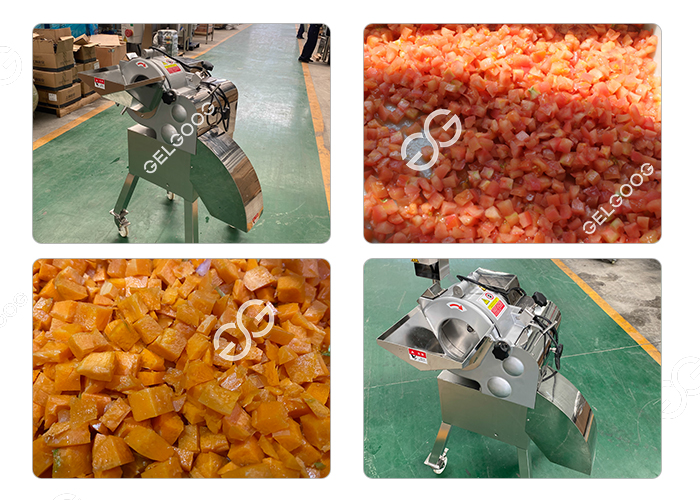 Advantages Of Tomato Cube Cutter
1. The diced surface is smooth and flawless
2. It can cut a variety of fruits and vegetables into cubes.
3. It is suitable for use in various food processing factories, canning factories, canteens, restaurants, schools and other occasions.
4. Simple operation, clean and hygienic.
5. It can be customized for different dicing needs of different vegetables.
How A Tomato Cutting Machine Works
The dial of this tomato dicing machine drives the object to be cut to rotate at high speed, and uses the centrifugal force of the object to cut the object into cubes with the help of a vertical knife.
Parameters Of Tomato Cutting Machine
| | | | | | |
| --- | --- | --- | --- | --- | --- |
| model | power(KW) | Dimensions(MM) | weight(KG) | Yield(KG/H) | diced size(mm) |
| CD100 | 0.75 | 710*660*1085 | 100 | 600 | 3-25mm |
| CD800 | 0.75 | 800*700*1260 | 100 | 800 | 3-25mm |
| CD1500 | 2.25 | 1740*1270*1460 | 280 | 2000 | 5-20mm |
Tomato dicing machine is a necessary equipment for tomato canning processing line. If you want to know the price of tomato dicing machine, please leave a message.
---
Leave A Message For A Quote