Description
Introduction Of Rambutan Washing Machine
The Rambutan washing machine is an indispensable machine for the deep processing of lychee and longan. It can remove impurities, dust, pesticides and other harmful substances on the surface of lychee and longan, avoiding food pollution in the later processing. Longyan washing machine can be used in many fields and many occasions, suitable for washing fruits and vegetables, seafood washing, Chinese herbal medicine washing, and can be used in large restaurants, factories, farms, fields, etc. It adopts stainless steel device with long service life and low failure rate.
Features Of Rambutan Processing Machine
1. This rambutan processing machine adopts the function of double washing of raw materials, and the bubbles and water spray are generated from high pressure, making the washing cleaner.
2. When this machine is cleaning fish, shrimp, and vegetables, the dirt and impurities on the material can be separated and intercepted by the filter.
3. During the cleaning process of the rambutan processing machine, the water spray and high-pressure nozzles can adopt a water circulation system to continuously supply water. And can easily adjust the water supply according to specific needs.
4. The rambutan washing machine has a compact mechanical structure, beautiful appearance, and no noise pollution when working.
5. This longan washing machine is made of stainless steel, has a long service life, is not easy to rust, has a bright and beautiful appearance, and is easy to clean.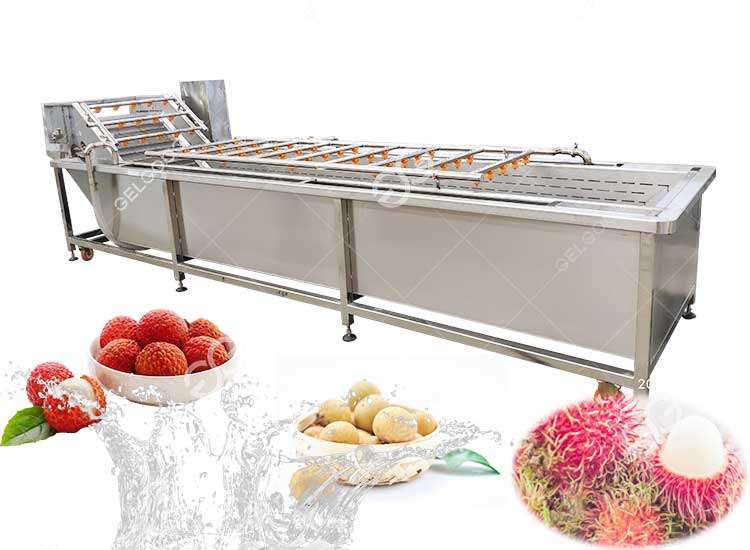 The Advantages Of Lychee And Longan Washing Machine
1. This rambutan washing machine uses the bubbles produced by the bubble generator to wash the fruit, and the tumbling of the bubbles can achieve the effect of all-around cleaning.
2. This rambutan washing machine adopts a water circulation system device, which can make the water reuse and reduce the waste of water resources.
3. This rambutan washing machine can be used as a stand-alone machine, or it can be combined with air dryers, packaging machines, etc. to form a production line, saving processing time and labor costs.
4. This rambutan washing machine can be customized according to the needs of customers with different output machines, which can add ozone generators to make cleaning cleaner.
5. The rambutan washing machine is simple to install and operate, adopts high-configuration parts, has a low failure rate, and is easy to maintain.
Use Of Rambutan Processing Machine
The bubble cleaner is an important product in the jujube, vegetable, and aquatic production line. Rambutan processing machine is mainly used for cleaning vegetables, fruits, Chinese herbal medicines, and aquatic products. The principle of the bubble cleaning machine is mainly to use the right amount of water to be injected into the box of the equipment in the front of the box, and the water temperature is heated by the heating tube. Removal of impurities on the surface of fruits and vegetables. Then the fruits and vegetables are continuously advancing along with the mesh belt. When the water comes out, the high end is equipped with a spray for secondary cleaning.
Parameters Of Lychee Longan Rambutan Washing Machine
Lychee Longan Rambutan Washing Machine
Model
Mesh belt width
Transmission power
Pump power
Air pump power
Dimensions(MM)
GG-XQ2500A
800
0.75
0.75
2.2
2725×1504×1329
GG-XQ3000A
800
0.75
0.75
2.2
3225×1504×1329
GG-XQ3500A
800
0.75
0.75
2.2
3725×1504×1329
GG-XQ4000A
800
0.75
0.75
2.2
4225×1504×1329
GG-XQ5000A
800
1.5
1.5
4
5225×1504×1329
GG-XQ6000A
800
1.5
1.5
4
6225×1504×1329
We are a manufacturer and exporter of lychee and rambutan processing machines and equipment. We have a variety of different fruit processing machinery and realize quick turnkey engineering services. If you want to know more, please contact us.