Description
Commercial Onion Dicer Machine Description
The onion dicing machine can quickly diced the whole onion, and the size of the diced can be adjusted according to the processing needs. The commercial onion dicer machine can be cut into shape at one time, and the cut surface is smooth. It is suitable for use in various restaurants, hotels, food processing plants, central kitchens and other places. Suitable for processing carrots, potatoes, mangoes, pineapples, apples and other fruits and vegetables.
Features Of Onion Dicing Machine
1. Food-grade stainless steel material, no pollution to onions, no pollution, you can use it with confidence.
2. This automatic onion dicing machine adopts PLC visual control panel, which is convenient for operation.
3. Stable operation, no shaking when working, no noise pollution.
4. Huge material inlet, convenient for feeding materials and safer to use.
5. Universal wheel design, easy to use and move.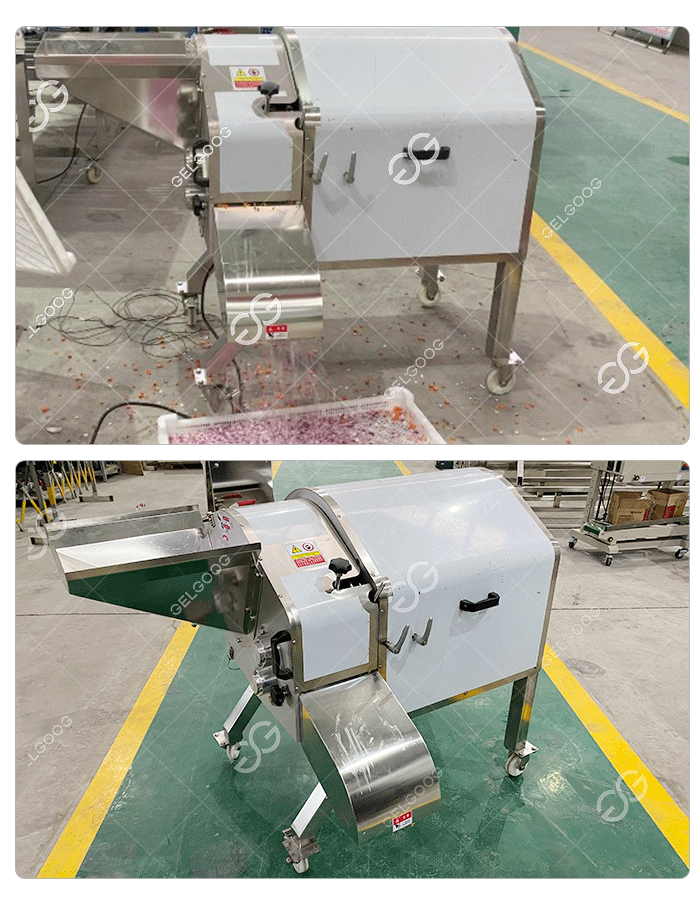 Advantages Of Onion Dicing Machine
1. It can realize the characteristics of one machine with multiple functions, and the size of dicing can be adjusted according to the processing requirements.
2. Compared with more than 20 times of manual processing, the processing efficiency is improved.
3. Pure copper motor, the failure rate is relatively low.
4. The wear-resistant blade has a relatively long service life.
5. The surface of the cut tissue is smooth and flawless.
Working Principle Of Automatic Onion Dicer
The commercial onion dicer machine utilizes centrifugal force to spin the object, while the dial drives the object to rotate at high speed. Utilizing the vertical knife, it slices the object, followed by the disc cutter which turns it into strips, and then directs the cut material to the horizontal cutting edge. The cross-cutting knife then transforms it into the desired cubes or cuboids.
Commercial Onion Dicer Machine Parameters
| | | | | | |
| --- | --- | --- | --- | --- | --- |
| model | power(KW) | Dimensions(MM) | weight(KG) | Yield(KG/H) | diced size(mm) |
| CD100 | 0.75 | 710*660*1085 | 100 | 600 | 3-25mm |
| CD800 | 0.75 | 800*700*1260 | 100 | 800 | 3-25mm |
| CD1500 | 2.25 | 1740*1270*1460 | 280 | 2000 | 5-20mm |
---
Leave A Message For A Quote