Description
Introduction Of Potato Cutting Machine
The potato slicer machine solves the problems of uneven slicing and low processing efficiency. Its blades are very sharp and can be non-stick. In the process of potato chip processing, slicing is the most important link. Only by slicing evenly can the time and temperature of later frying be well controlled. So potato chips machine is essential in potato chip processing. It has the advantages of multi-function, high performance and high efficiency.
Features Of Potato Chips Machine
1. Multiple feeding ports can be customized
Multi-diameter feeding of fruits and vegetables The diameter of the standard feeding port is 50mm, 70mm, 80mm for the round port, and 60mm for the oblique port. The diameter of the feeding port can be customized according to the diameter of the fruit and vegetable cut by the customer.
2. The whole machine adopts stainless steel design
The design of the whole potato slicer machine for business is made of SUS304 stainless steel, which is easy to clean and corrosion-resistant. The equipment has a high degree of automation, high production efficiency, and adjustable cutting thickness.
3. Three-piece cutter
The cutting knife is made of high-carbon chromium stainless steel (3Cr13), which has high strength, sharp blade and no deformation, and high work efficiency.
4. Waterproof switch
Waterproof switch control, one operation key to start, easy and convenient to operate.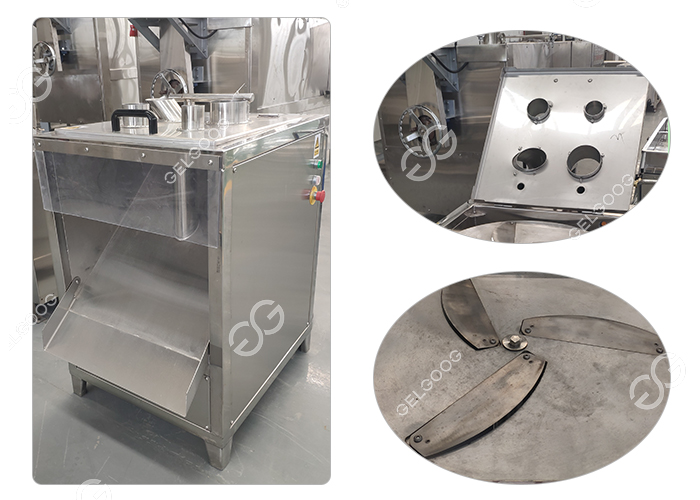 Advantages Of Potato Slicer Machine
1. Multifunctional production
This machine can slice a variety of root vegetables, including sweet potatoes, cassava, cucumbers, lemons, apples, etc.
2. Good slicing effect, adjustable thickness
Compared with manual slicing, the slicing effect of this machine is better, more uniform, and the thickness can also be adjusted according to processing requirements.
3. There are many applicable places
This machine can be applied to the processing of dried fruit and vegetable chips, potato chips and all kinds of fried vegetables. It is suitable for large restaurants, central kitchens, food processing plants, pickle processing plants, etc.
4. Continuous production can be realized
Combined with cleaning machines and other equipment, a complete production line can be formed to achieve continuous production.
5. Save time and labor cost
This machine has high working efficiency, equivalent to dozens of times of manual slicing, and is a necessary equipment for fruit and vegetable processing.
Potato Chips Machine For Sale Slice Effect Display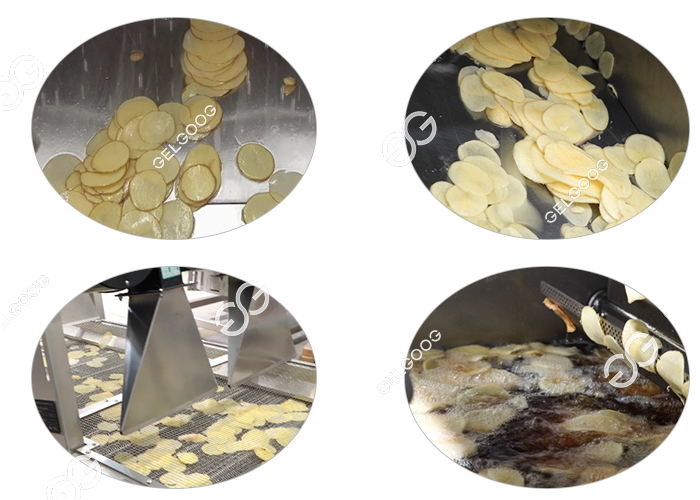 Parameters of industrial potato cutting machine
| | |
| --- | --- |
| Model | GG-CP1 |
| Dimension | 800*600*1000mm |
| Power | 0.75kw |
| Capacity | 300-500kg/h |
| Cutting size | 0-5mm adjustable |
| weight | 80kg |
| Feeding height | 900mm |
| Discharge height | 250mm |
Potato chips are popular with many people, and many potato sellers will be excited when they see the dividends obtained by potato chips. However, it is not difficult to start a potato chip processing business. You only need to contact us and put forward your requirements, and we will give you a complete solution and quotation.
---
Leave A Message For A Quote