Description
Fruit Slicing Machine Introduction
A fruit slicing machine is a piece of equipment for professional use for efficient slicing of fruit. It is usually suitable for food processing industry, catering industry and food production plants where large quantities of sliced fruits are required.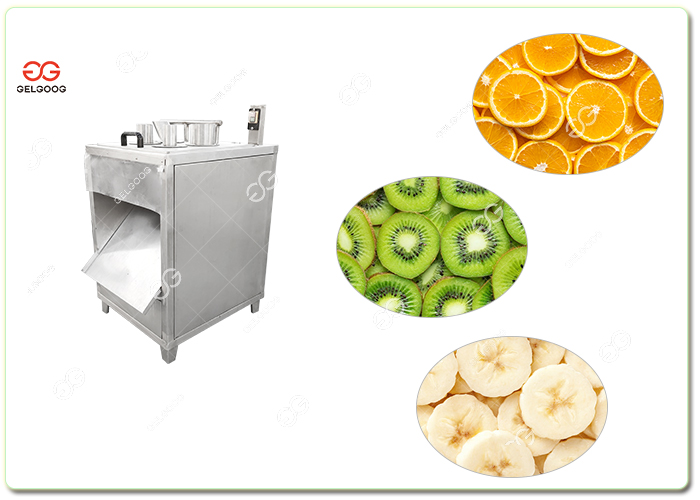 Industrial Fruit Slicing Machine Features
The industrial fruit slicing machineis made of stainless steel, clean and hygienic, solid and durable.
The upper cover can be customized according to the size of the fruit, and one machine can complete a variety of projects.
The slices can be shaped, and can be cut horizontally or vertically.
Bottom roller design, easy to move.
Electric energy drives the operation of the machine without noise and pollution.
Advantages Of Fruit Cutting Machine
It is suitable for the processing of various fruits, and it is also suitable for the use of various fruit processing factories.
The mechanical operation is stable, the operation is simple, and the maintenance is convenient.
Suitable for indoor or outdoor use.
The processing efficiency is dozens of times that of manual.
Fruit cutting machinecan be combined with other machinery to form a fruit and vegetable production line solution.
Output can be customized according to processing needs.
The thickness of slices can be customized according to processing requirements.
Parameters Of Fruit Slicer
| | |
| --- | --- |
| Model | GG-CP1 |
| Dimension | 800*600*1000mm |
| Power | 0.75kw |
| Capacity | 300-500kg/h |
| Cutting size | 0-5mm adjustable |
| weight | 80kg |
Instructions
Connect the power cord of the fruit and vegetable slicer to the required knife switch, and check whether the power cord is damaged
Press the start switch to see that the direction of the tray is clockwise. If it is counterclockwise, just swap any two power cords.
When the machine turns clockwise, start the machine and adjust the slice thickness with a small amount of material first.
After use, wipe off the waste residue and dirt with a damp cloth, and apply a layer of cooking oil on the knife.
Fruit slicing machine has strong applicability. It can not only cut fruit but also cut vegetables, including potato chips, banana chips, fruit chips and other processing. It is an ideal equipment. If you want to know the fruit cutting machine price and specific information, you can contact us at any time
---
Leave A Message For A Quote